Examining the pigeon muscles
Now a very important part of a racing pigeon: the pigeon muscles. Of all top pigeons that we have seen, we can honestly say that they all had a perfect musculature. All pigeons had very smooth and vital muscles. The length varied from medium to long or even very long muscles. This regards the distance capability.
Subdivision of races:
• Sprint pigeons – short muscles and positioned near to the sternum.
• Middle and one day long distance – semi-long muscles and having a little more distance from the sternum.
• Marathon long distance – very long smooth muscles with more distance from the sternum.
No marathon distance pigeons have short muscles, however there are middle and one-day long distance pigeons with long muscles. These pigeons are also very capable of flying one-day long distances, but only if they are properly trained.
The main difference between short and long muscles is the following:
• A short muscle contains lots of explosive power.
• A longitudinal muscle has more endurance strength.
Fact: All top pigeons must have smooth to very smooth muscles no matter the distance suitability for the pigeon! Furthermore the pigeon is in need of – of course – a good muscle condition showing, when examining the pigeon by hand.
For marathon pigeons, they reveal a huge energy output thanks to their special muscles. A muscle with a huge opportunity to accumulate energy feels smooth and a bit greasy. Barcelona pigeons have these characteristics. This energy output is only important for marathon pigeons which must continue to "hang" during the whole day but this high power can also occur to one day long distance pigeons. The feeling and examination of the muscles is very difficult to learn. There are few people who have this gift.
How to examine pigeon muscles
If you want to do an exercise or examine the pigeon muscles you work as follows. Pectoral muscle: Take your bird in the hand and keep the tail up, the back of the bird stays against your stomach. Now put your fingers along the sternum of the bird (picture 1). You make a somewhat lateral friction over the flesh and push the muscles to the outside. Repeat this movement several times. This way, you can feel the chest muscles and examine them. Nervous and trained pigeons feel a bit tight and stiff, then you will have to repeat this procedure few times. Push in the transverse direction. It is like rubbing half inflated inner tube of a bicycle tire!
First feel pectoral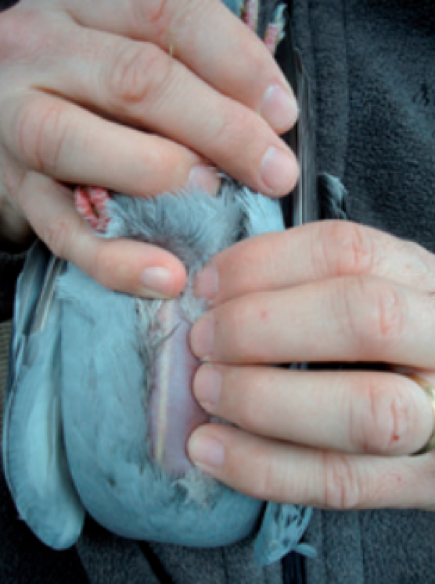 When you approved the chest muscles, you can judge the length and flexibility: let your fingers go from bottom to top (vertical) (see photo 2). Thus, you can feel at a certain moment some kind of voltage with the observed counter pressure. Then you feel the so-called semi-inflated inner tube of a bicycle tire. The longer you feel pressure from bottom to top, the longer the muscle is. When pigeons have short muscles, you will feel that the muscle goes to half sternum, or stops even earlier, here stops counter pressure. Pigeons with long muscles give long counter pressure and even a bit beyond the sternum. These pigeons are the distance pigeons.
Then judge the length and flexibility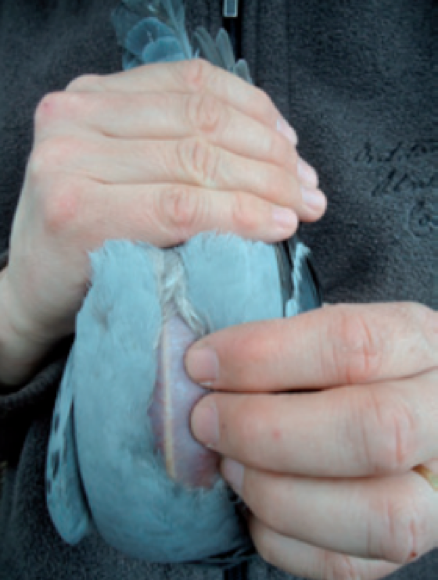 Warning: do not think that the length of the sternum is equal to the length of the muscles, this is fault! There are long distance pigeons with shorter sternum and long muscles. And Sprint champions which have a longer sternum and shorter muscles than the sternum.
Wondering which foods or medicines to give your pigeons? Need more information about supplements? Welcome to our webshop. There you'll find our carefully developed products that will help you improve your pigeons' health, condition, cure diseases and find information on a variety of bird-related topics.